To get to higher stage in their life or career, people tends to stab their friend or partner. WWE is not an exception in this case. Lets see 5 brutal betrayal moments in WWE.
Christian and Trish Stratus betrays Chris Jericho
Jericho and Christian bets 1$ canadian on who would be first to make their love interests to fall in love with them. Both Lita and Trish Stratus got to know of the bet and slaps Christian and Jericho. But Jericho was absolutely in love with Trish Stratus. Jericho was not able to concentrate on anything. Christian was angry on Jericho as his love for Trish making their tag team fail, thus that argument leaded to a wrestlemania match between Jericho and Christian. Christian wins the match, Trish slaps Jericho and Christian delivers an killswitch but that was not it. Christian and Trish Stratus kissed each other on entrance ramp. Poor Jericho was helplessly watching it.
Paul Heyman betrays CM Punk
CM Punk was in Money In The Bank ladders match in 2013. Paul Heyman used to be his advocate. CM Punk almost climbed up to the top of the ladder, Paul Heyman came into the ring like supporting CM Punk but he attacked CM Punk with ladders multiple time by which CM was hurt badly, Paul Heyman left the ring after attacking CM Punk.
Evolution betrays Randy Orton
Triple, Randy Orton, Batista and Ric Flair formed a faction called Evolution. Randy was the youngest in that team under Evolution. Randy flourished immensely his success was too much for Evolution. Randy Orton went on to become the youngest world heavy weight champion, evolution came to stage in a way like celebrating Randy's victory but attacked Randy Orton for winning the championship as Triple H considered world heavy weight championship as his title.
Seth Rollins betrays Shield
Shield and Evolution were having a rivalry. Triple H wanted to destroy the Shield. Triple H tried hard to destroy them but it was not possible, then he realized that Shield cannot be destroyed by outsider. Then he outworks the Shield by making Seth Rollins backstab his Shield brothers. Fans were very shocked to see Shield implode in front of them.
Stone Cold betrays fans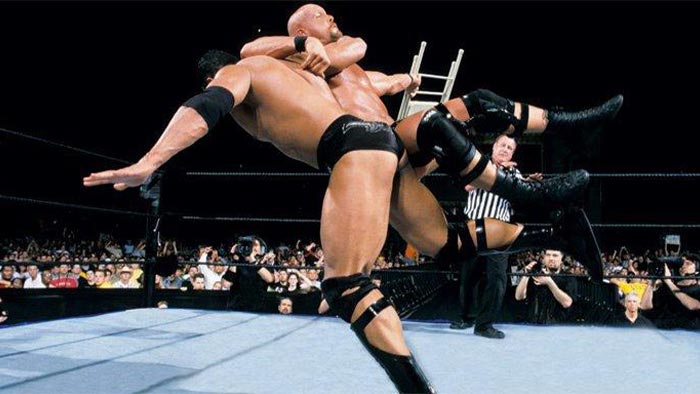 Stone Cold match with Rock in WrestleMania 17 is one of the best WWE match in history. Vince used to hate both Rock and Stone Cold. Stone was the guy who doesn't like the billionaire boss. On that match Stone Cold tried everything to defeat Rock. To everyone's surprise Vince McMahons hands chair to Stone Cold to destroy Rock. Fans were really shocked to see Stone Cold teaming up with Vince McMahon