Randy Orton is one of the greatest heel of all time. Randy Orton is an absolute savage when he hears voices in his head, he shows absolutely no mercy to fellow superstars in the ring. Randy's Punk kick is arguably one of the most lethal move in WWE, which destroyed many superstars.
Lets see 5 times Randy Orton hit a Punt Kick to WWE Superstars
John Cena Sr.
Randy Orton and John Cena had a long lasting rivalry, both gave many phenomenal matches in their rivalry. During their rivalry in 2007, John was in match with Booker T and Randy Orton attacked him from behind. Booker T also joined Randy and attacked John Cena. Randy was in the verge of hitting punk kick to John, but he was kind of bored attacking John Cena. So he pulled John Cena Sr, through the barricade and hits a brutal punt kick to John Cena's father.
Triple H
Randy Orton's rivalry with McMahon's was one of the most personal rivalry ever. Sometimes we forgot whether was it scripted or real. Bald Randy at his best. In WWE Backlash 2009, Legacy faced Triple H, Shane McMahon & Batista in which WWE Championship was at stake. Randy Orton tried everything to win but finally ended up hitting punt kick to Triple H and won the match. Triple H was taken in strecture after the match.
Dusty Rhodes
Dusty Rhodes wanted to see his son to succeed in WWE, so Dusty tried to make him friends with Randy but Randy Orton on their first appearance slapped Dusty Rhodes in front of Cody Rhodes and as the rivalry continued Randy ended this rivalry by punting Dusty Rhodes, which was one of the coldest moment in WWE because he hit the punk kick to Dusty in front of his son Cody Rhodes.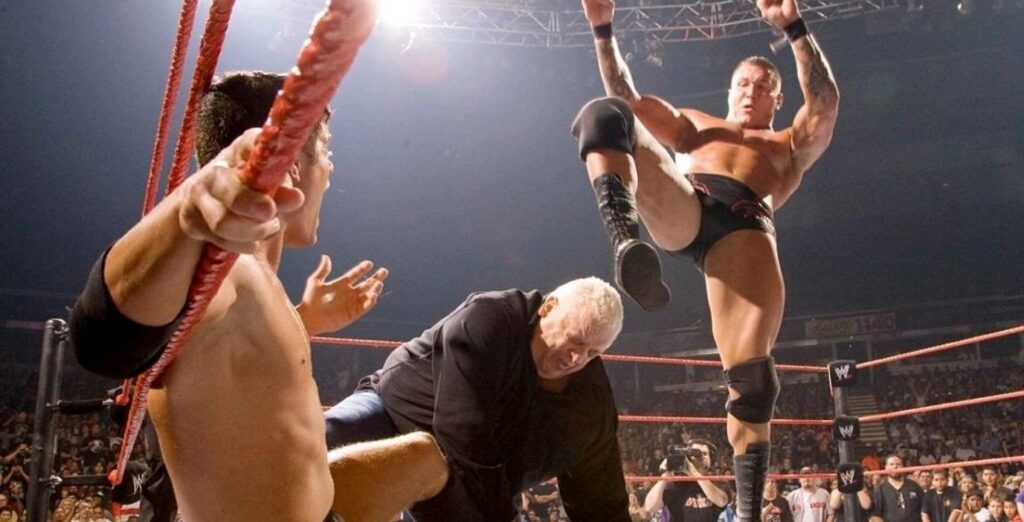 Ric Flair
Ric Flair played an important role in developing Randy Orton as a superstar, he took him under the Evolution. Randy Orton returned to his legend killer persona during 2020. Randy was ruthless in destroying legends. In one of the episode Ric Flair said he wanted to be in Randy Orton's life. Ric said he wants him to break his championship record. Randy Orton and Ric Flair hugs it out , Randy hits a low blow to Ric Flair and lights go of Ric was lying in ring unconsciously.
Vince McMahon
Randy Orton has hit many punt kicks in his career, but hitting Punk to Vince was an iconic one. Randy in an interview told that Vince had an black eye due to this punt kick. Vince told Randy to ask forgiveness for his past behaviour but Bald Orton was not in a mood to ask forgiveness, he instead kicked his head and hits a ruthless punt kick to Vince McMahon.