Randy Orton is a 3rd generation superstar, he came a long way from being a Legend killer to becoming a legend himself. Randy Orton almost achieved everything there is to be in WWE. RKO is one of the most famous finishers in WWE. Randy Orton had hit many memorable RKO's in his career. Today lets see 5 RKO's Randy Orton hit to female superstars.
Fabulous Moolah
Fabulous Moolah was in 9/15/03 episode of RAW on her home city South Caroline. She fought a one last match against Victoria, Victoria lost the match, she was very furious started to attack Fabulous Moolah. The Legend killer came to rescue Fabulous Moolah, Randy Orton saved her from Victoria, he introduced himself to Fabulous Moolah as Legend Killer, and hit a shocking RKO to Fabulous Moolah.
Beth Phoenix
Edge made a surprise 2020 Royal Rumble entrance, he eliminated his old friend Rated RKO partner Randy Orton, on the following week Raw. Edge told Randy Orton reunite and be Rated RKO again but Randy hears some voice inside his head, so he attacks Edge with steel chair to head. Edge was seriously injured on next following week, Edge wife came to Raw to give an update on Edge's medical condition. Randy Orton came to ring & told Beth she should be thankful, Beth Phoenix was very angry, she slapped him & kicked him got return hit by a brutal RKO by Randy Orton.
Alexa Bliss
Alexa Bliss with the help of Fiend made Randy Orton suffer a lot like throwing fireball on his face & made him puke some black liquid from his mouth. But little did she know that viper never forgets to take revenge, Alexa Bliss was in a match with Asuka for championship, Randy Orton appeared out of nowhere & was standing behind Alexa Bliss, when she turned back, Randy Orton hits a revengeful RKO.
Stacy Keibler
Randy Orton is not known for having screen romance in WWE, which made Stacy Keibler & Randy Orton work. Randy Orton was scheduled to face Undertaker in WrestleMania 21. Randy Orton wanted to prove to what extent he can go to win the match & to break the streak. No better way to prove his ruthlessness than hitting his own storyline girlfriend with lethal RKO.
Stephanie McMahon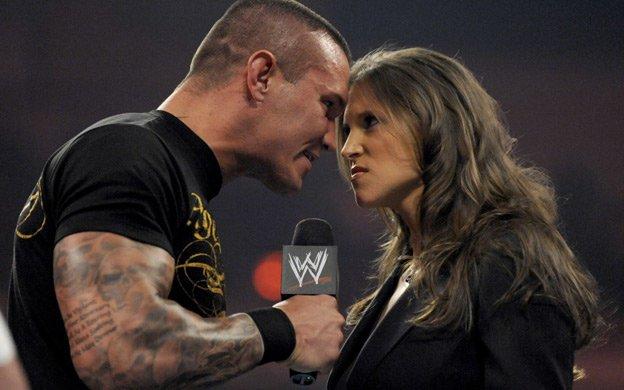 Randy Orton publicly many times told in interviews that Triple H had his back many, he even said without him he would not have made this far in WWE. McMahon family & Randy Orton rivalry was one of the epic rivalry in WWE history, Randy Orton had attacked McMahon family with all of his finishers, All of them were beaten down by Randy Orton & he went to an extent of punt kicking the boss of WWE. In one 2009 Raw episode Shane McMahon attacked Randy Orton but Randy had Cody & Ted in his arsenal, Randy Orton destroyed Shane McMahon, Stephanie begged Randy Orton not to attack him but instead got hit by merciless RKO.